ICMAB Organized Professional Induction Program for the Newly Qualified CMAs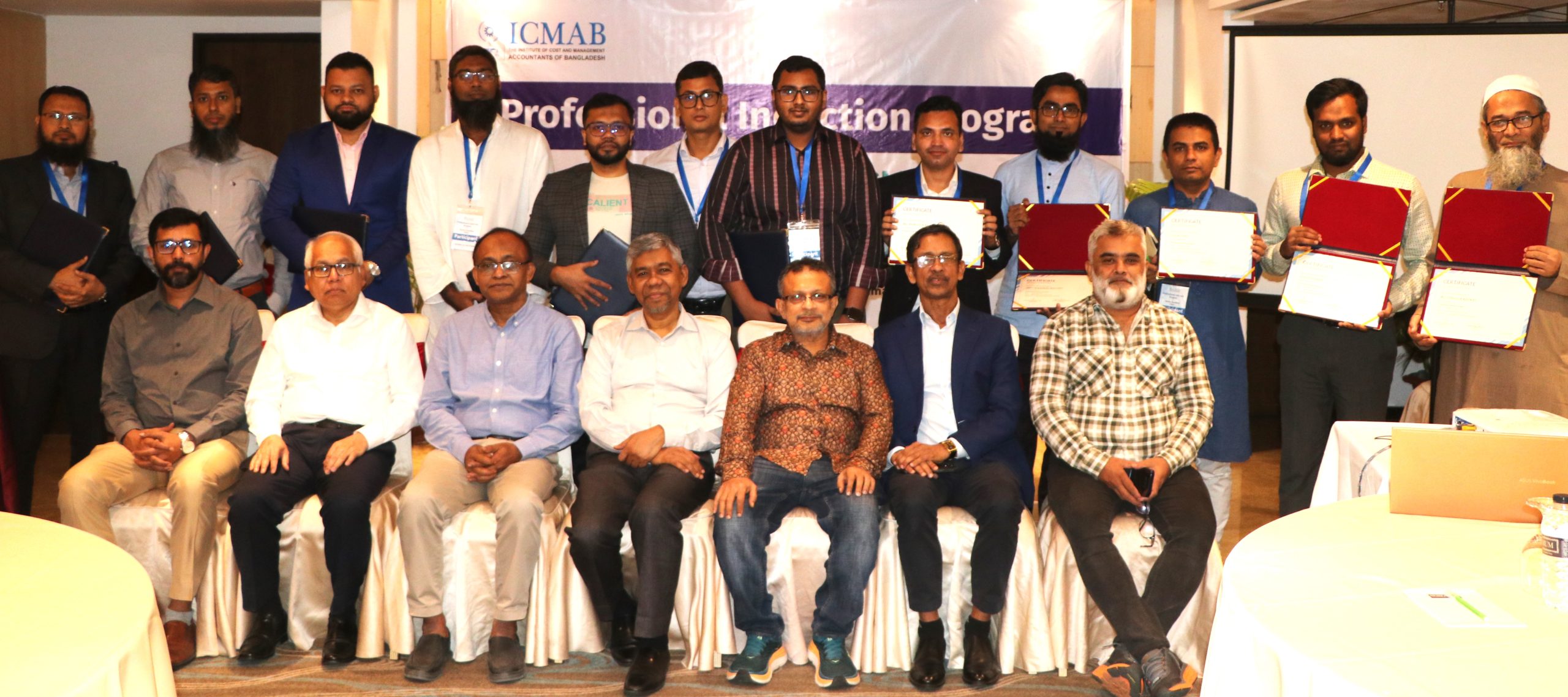 The Young Leadership Development Committee (YLDC) of ICMAB organized a Professional Induction Program for the newly qualified CMAs (qualified in the CMA May 2023 Examination) on 3rd November 2023 at the Hall De Grand, Hotel Golden Tulip – The Grandmark – Dhaka, Banani, Dhaka. Mr. Jamal Ahmed Choudhury FCMA, Past President and Chairman, YLDC, Mr. Md. Kausar Alam FCMA, Secretary, and Mr. Md. Abdur Rahman Khan FCMA, President, ICMAB, spoke at the inauguration ceremony of the program. Past Presidents and Present Council members of ICMAB, Mr. Mohammed Salim FCMA and Mr. Arif Khan FCMA, ICMAB Treasurer, Mr. Akhtaruzzaman FCMA, ICMAB Councilors, Mr. S.M. Zahir Uddin Haider FCMA, and Mr. M Jahangir Alam FCMA, ornamented the program with their presence.
The councilors addressed the gathering and shared the objectives of the initiative. They have opined that this initiative is a structured and systematic process designed to provide individuals entering a new professional community with the necessary knowledge of professional conduct to suit the said community best. They have also added that the program offers several benefits, including the opportunity to acclimate to the community culture, gain a deeper understanding of expected conduct, and establish a network among professionals. By ensuring that new professionals receive a well-rounded introduction to professional conduct, this program not only accelerates their learning curve but also fosters their long-term success and contributes to the overall growth and excellence of the profession.
Ms. Akhtar Sanjida Kasem FCMA, Prof. Dr. Nikhil Chandra Shil FCMA, and Prof. Dr. Mohammad Zakaria Masud FCMA conducted very insightful and engaging sessions on Professional Etiquette, Professional Ethics and Code of Conduct, and Professional Conduct under the CMA Act and Regulation. The participants overwhelmingly appreciated the initiative and the sessions' quality.
The President and the Councilor Members distributed certificates among the participants at the end of the program. Mr. Anik Kumar Kundu ACMA passionately coordinated the program. The Vibrant engagements of the participants throughout the program made the event successful.
EVENT INFO :
Published Date:

November 7, 2023