ICMAB Celebrates the International Accounting Day 2023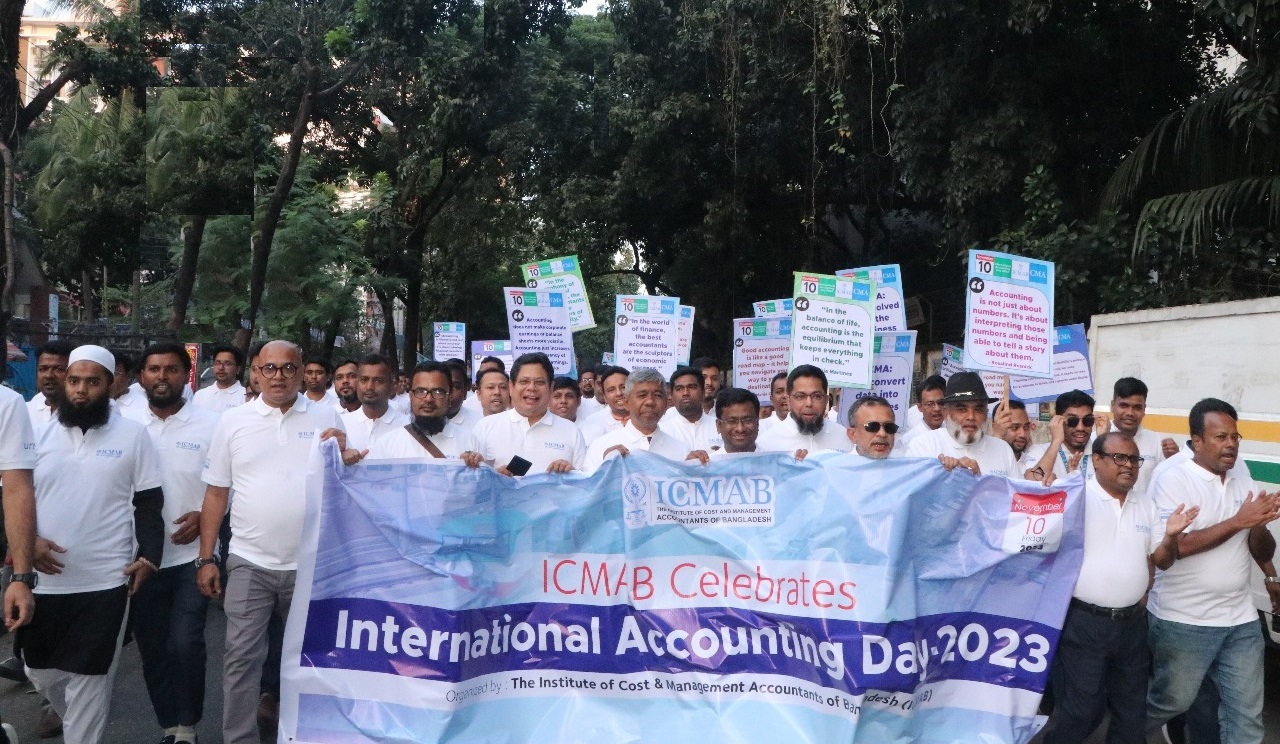 International Accounting Day is an annual celebration that recognizes the crucial role of accountants and finance professionals in ensuring the transparency, integrity, and accuracy of financial information across the globe. Held on November 10th each year, this day is a tribute to the individuals who dedicate their expertise to maintaining the financial health of businesses and organizations. The Institute of Cost and Management Accountants of Bangladesh (ICMAB) has observed the day with the theme "Promoting Management Accounting Education and Profession" and celebrated the day with a colorful rally, celebration session for CMAs inclusion in the Customs Act 2023, and a discussion session on the theme of the day.
At the outset of the discussion session, Mr. Mohammed Salim FCMA, Past President and Current Chairman of the ICMAB Seminar and Conference Committee, delivered a welcome speech.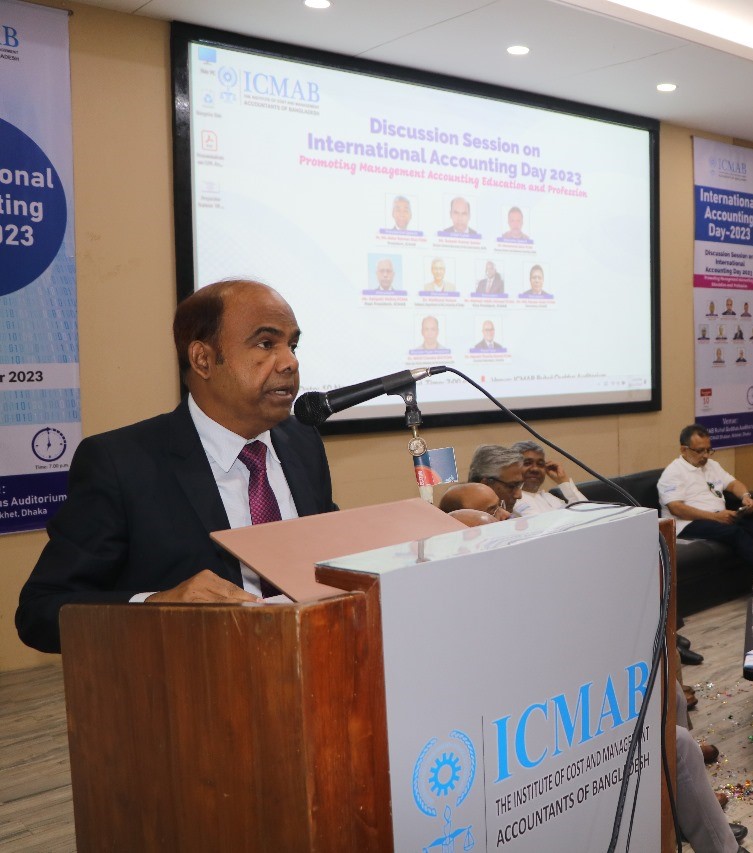 Mr. Sukesh Kumar Sarker, Director General (Secretary to the Government), National Academy for Planning and Development (NAPD), Ministry of Public Administration, attended the discussion session as the Chief Guest.
Dr. Nikhil Chandra Shil FCMA, Professor, Department of Business Administration, East West University, and Advisor, ICMAB, presented the keynote of the session on "An Ethical Journey towards Growth and Excellence: Partnering Role of Management Accountants". Dr. Mahfuzul Hoque, Professor, Department of Accounting & Information Systems, University of Dhaka, Mr. Satipati Moitra FCMA, Past President, ICMAB, Mr. Mahtab Uddin Ahmed FCMA, Vice-President, ICMAB, and Mr. Md. Kausar Alam FCMA, Secretary, ICMAB, participated as the discussants of a panel discussion on the keynote where, Mr. Hasnain Thoufiq Ahmed FCMA, Council member, ICMAB, and Transformation Director, Banglalink Digital Communications Limited, acted as the panel host.
Mr. Md. Abdur Rahman Khan FCMA, President, ICMAB, and the Chief Guest, Mr. Sukesh Kumar Sarker, Director General, NAPD, addressed the gathering after the discussion session. Speakers of the session highlighted the accountants' pivotal role in facilitating economic growth, fostering investor confidence, and ensuring compliance with regulatory standards. They opined that the occasion serves as an opportunity to acknowledge accountants' hard work and dedication and promote awareness about the importance of ethical financial practices in today's interconnected global economy. International Accounting Day is a reminder of the profession's impact on sound financial decision-making and the overall stability of the financial world.
It was a vibrant day with the participation of the past presidents, councilors, members, students, and officials of the Institute. It ended with a vote of thanks by the Secretary of ICMAB, Mr. Md. Kausar Alam FCMA.

EVENT INFO :
Published Date:

November 10, 2023